About OmniRealms
OmniRealms.com's primary goal is to take the visitor on an exciting, unique journey of their choosing and; for the truly committed; to interact on these journeys as we go along!
The first thing most visitors will notice are the Gorgeous Girls!!!: our SweetHearts, Creatures and Treasures! These are indeed real people with real contacts, all available for various activities both in their localities and over the net! Please contact us at info@omnirealms.com for any projects you might have in mind for them!
Growing "realms" will be those of Tales; be they those of our own stories, our interactive fiction YOU may join in on or instantaneous "portal travels" to other established gaming communities.
If you are in or near the Atlanta, Baton Rouge, San Antonio, Phoenix or Las Vegas areas here's a sweet offer for you! If you're not the next offer holds true for select models of ALL LEVELS...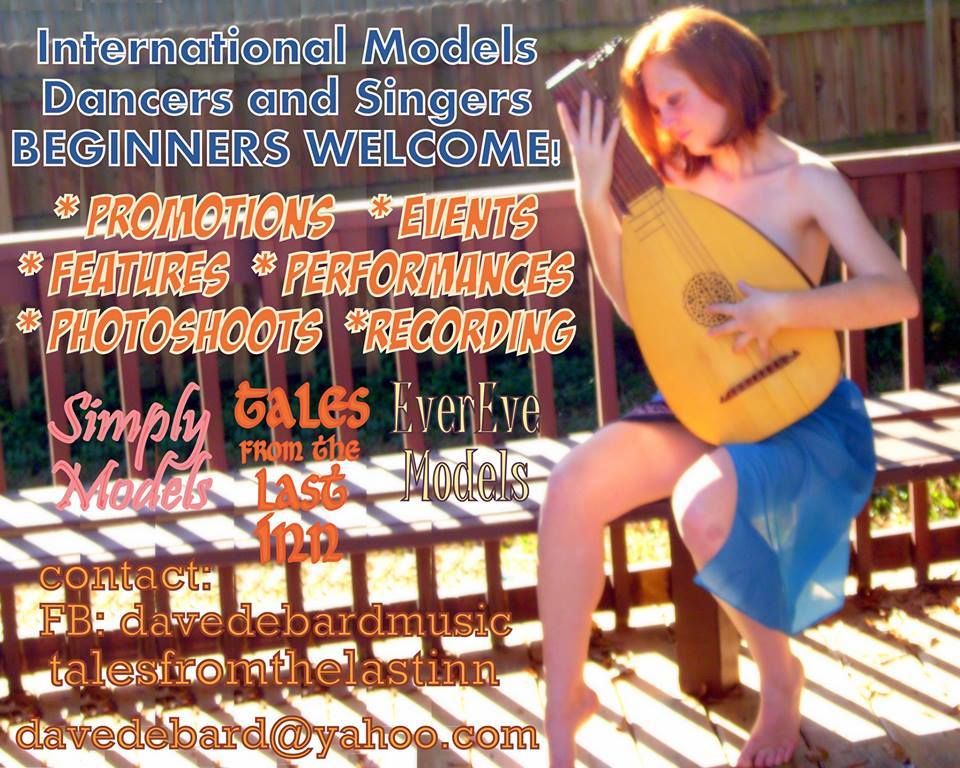 If you are a lovely female performer or model ANYWHERE on this planet (or anywhere in the multiverse with internet!) or want to be definitely check into the MANY promotional and professional offers I have for you!
There is much...MUCH more to come but, for now, return to our main page to visit our many models and performers as well as our new beginnings of storytelling at Tales from the Last Inn!
About the "Creator"
To call myself THE creator of OmniRealms would be a gross exaggeration but I will take full credit for having united the talent which comprises our diverse visits to "All Realities, All Eternities". In fact, I invite the creative and technical talents of all who enter to enhance and "co-create", if you will, our ever increasing opportunities to share our experiences in the "nether regions" of time and space to the newcomer, who in turn shall be offered ample opportunities to do the same!
To start my "Tale", I began performing, "composing" and teaching music at the age of 15, just months after getting my first 3/4 Kay SG style bass. Before my 16th birthday I cofounded the all original progressive metal trio "McYath" and soon after purchased a Rickenbacker 4001 (Geddy Lee and Chis Squire having no small influence on that decision), then a set Basky II bass pedals to allow me to become the "4th" band member who happened to be a multi-instrumentalist who performed on violin, flute, sax, guitars, keys, side percussion and the occasional side of the head sucker punch on unsuspecting drunks who decided to invade our stage.
Moving forward past college, I was blessed a series of positions in which I was a Creative/Music/Performing Arts Director (first also as a Residential Counselor for Atlanta street kids), a Studio Musician and Producer beginning in Atlanta's now defunct first digital studio Underground Records, a sought after Private Instructor, Manager and early analog synth "Programmer" for Dirt Cheep Music, then Atlanta's largest retail music chain. O how I miss thee, 80's!!!
A "side trip" into early internet text based gaming found me first designing HTML websites using my then pseudo-religious text "How to Program HTML in 7 Days", then the HUGE boost with the discovery of Blizzard's "Diablo" which allowed SIX...YES SIX!!! people to game together online simultaneously. Being entirely enthralled, I successfully campaigned for my "Nation of Union" to be allowed to be a Diablo host site. Their then amazing WEBMASTAH's support system led first to a LOT of awards and kudos, then more sponsorship offers, then offers for high paying, too easy to do WEBMASTAH jobs.
So what is a young man faced with some serious change who wants even more "change" to do? He finds ways to incorporate beautiful babes in the mix! Hence the creation of EverEve Models (alternative styles with leaning toward goth and dark fantasy) in 1994 and, about six months later, Simply Models!